The #1 Dumpster Rental Brighton Ontario Can Provide!
Choose Evergreen Bins for the dumpster rental Brighton Ontario homeowners, construction professionals, and businesses trust for all of their waste and debris disposal needs. Whether you're embarking on a full-home cleanout in preparation for a move or managing a new development site, we're confident we have the services and sizes that will help you clear the waste with ease. Our customers count on our responsive team to keep their schedules and budgets on track.

We're proud to be a locally owned and operated company serving Brighton, Ontario, and the surrounding areas with low-cost rentals for all kinds of projects and jobs. We care about our customers receiving the best dumpster rental Brighton Ontario has to offer for projects all year long. Our professional drivers transport household junk, bagged trash, construction debris, roofing take-offs, and more in a secure and convenient manner. We work closely with GFL Environmental to properly dispose of waste and ensure that all trash and debris is disposed of in an environmentally friendly manner. It's our top priority to offer friendly support using sustainable practices for the benefit of our communities.

Book the dumpster rental Brighton Ontario relies on for durable heavy-duty equipment, outstanding customer support, and budget-friendly pricing. Contractors prefer our team because we respond quickly to their changing needs and schedules. Homeowners with remodeling projects, household cleanouts, or yard cleanups can trust our team for easy-to-load bins that are quickly removed once the job is complete. We've simplified the scheduling process with our state-of-the-art online booking system. Click on the green "Book Now" button to get started, or call our friendly staff for help at (613) 242 5893.
Affordable dumpster rentals
We Take Just About Everything
Some examples of the junk we haul away include
Refrigerator Disposal

Garbage Removal

Mattress Disposal

Foreclosure Clean Outs
Construction Waste Removal

Yard Waste Removal

Trash Removal

Appliance Removal
Television Disposal & Recycling

Furniture Removal

E-Waste Disposal

Hot Tub Disposal
Book the Dumpster Rentals Brighton Uses to Complete a Range of Projects
Use the dumpster rentals Brighton businesses, construction professionals, property managers, and homeowners choose to complete all of their projects with confidence, safety, and convenience at the forefront. Our easy-to-load bins are the ideal solution for securely containing construction debris, junk, and trash at your home or on the job site. Our dumpster service Brighton ON relies on the most is delivered to your home or business in a timely and professional manner and is set up for easy loading.

Accomplish your household cleanout efficiently with our dumpster rentals Brighton homeowners love to have in their driveways. Safely contain the junk and trash from your home and garage and have it hauled away for you in a simple, straightforward rental. We partner directly with GFL Environmental to ensure all waste is disposed of responsibly in accordance with local regulations. When you work with our team, you can rest assured that your unwanted materials are being disposed of properly and ethically, with environmental sustainability in mind. Roofers and construction site managers appreciate a heavy-duty local dumpster rental Brighton ON depends on to keep their work sites safe and streamlined. Use our online booking system to start your rental process today.

Local Dumpster Brighton ON Homeowners Trust for Remodels and Cleanouts
Homeowners looking for a local dumpster Brighton ON uses to haul away the junk on their property turn to our local team time and time again. Whether you're downsizing, disposing of broken furniture, toys, and appliances, remodeling a bathroom, or tearing out carpeting, we can help. Customers with home improvement, roofing, repair, and cleanout projects frequently choose our small dumpster rental Brighton ON trusts for their waste disposal needs.

The 10-yard is a popular choice for garage and attic cleanouts as well as estate sales. Complete your household project with confidence with the support of our trash container rental Brighton ON homeowners count on the most. We take special care to be mindful of our customers' driveways and properties when delivering our heavy-duty bins. Load waste at your own pace and on your own schedule, then give our team a call to haul it away. Schedule a delivery online today!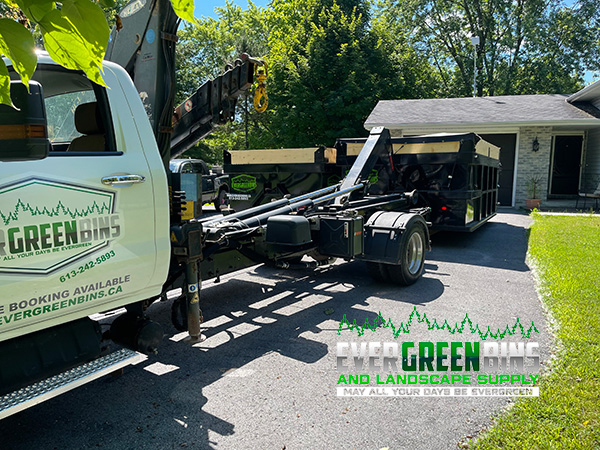 Dumpster Bin Rentals Brighton ON Uses for Yard Waste
Spruce up your yard in no time with dumpster bin rentals Brighton ON relies on for yard debris and landscaping. Our sturdy bins will handle all of your garden waste, tree and shrub trimmings, broken outdoor furniture, unused swing sets, fencing, and deck repair waste. When you have dumpster bin rentals Brighton Ontario residents trust to handle the bulky debris from their yards, you can easily improve the appearance of your home and its value. Quickly and easily reserve a dependable container for your yard waste online today.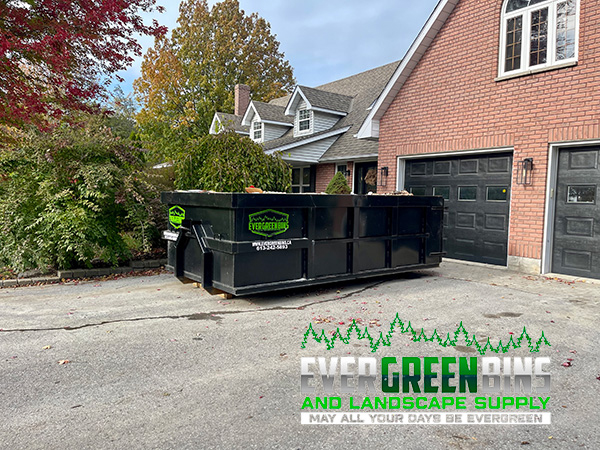 Garbage Dumpster Rental Brighton ON Business Owners Rely On
Use the garbage dumpster rental Brighton ON local businesses trust to contain their trash and keep their businesses clean and tidy. As a business owner, your time is better spent on other things than worrying about reliable and budget-friendly garbage disposal. Our team works with business owners to provide a dependable containment and disposal schedule. When your restaurant, care facility, apartment complex, or office building needs heavy-duty dumpster trash Brighton ON business owners don't have to think twice about choosing Evergreen Bins as their top choice. Browse our options, give us a call, and our friendly customer support team will work with your schedule.
Heavy-Duty Dumpster Rental Brighton ON Contractors Depend On Year-Round
Book our heavy-duty dumpster rental Brighton ON contractors and construction professionals rely on to contain and haul away lumber, tile, shingles, and other bulky debris from their work sites. Whether you're managing a new construction site or a remodel of an existing structure, construction or roofing waste needs to be contained safely and securely. Our construction garbage bin Brighton ON depends on is an essential tool of the trade to keep your job safe, on track, and under budget.

Roofers won't start a job without a well-placed container for their debris. If you're looking for dumpster rentals near me Brighton ON trusts most for your upcoming roofing job, we have a range of size options to serve your containment and disposal needs. View the sizes, prices, and rental terms for our waste dumpster rental Brighton ON construction professionals choose first, then quickly and safely reserve online.
Why Evergreen Bins is the Top Choice for a Dumpster Brighton ON Trusts Most
We understand you have several choices regarding renting a dumpster Brighton ON uses for waste disposal for your upcoming project. While we are not the only company in the area providing trash bins, we've built a stellar reputation for being the most reliable and reasonably-priced service provider in the area. Being locally owned and operated means we go the extra mile for our valued customers.

No matter what your reason is to rent a dumpster bin Brighton ON can count on, you'll love the low prices on top-quality containers backed by experienced customer support that Evergreen Bins provides.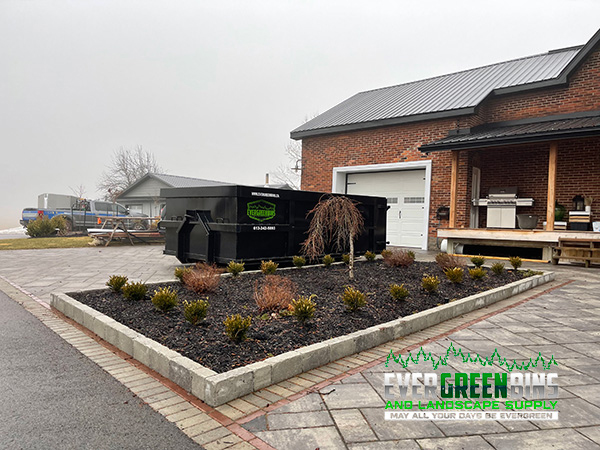 We partner with industry-leading manufacturers to provide property-friendly, easy-loading open-top bins that are guaranteed to be sanitized and inspected before arrival at your work site, business, or home. Choosing Evergreen Bins for the dumpster Brighton ON to contain trash and debris from your upcoming project is the smart choice when size selections and budget prices matter to you. Count on us to provide the best service in the industry. We've simplified the process of reserving a bin using our secure online system. Call our team at (613) 242-5893 if you have questions or prefer to book over the phone.
How to Reserve Dump Bins for Rent in Brighton
With our convenient online system, it takes just minutes to reserve the best dump bins for rent in Brighton for your upcoming household or business use. Our secure online system can be used any time, day or night, when it's convenient for you. We always do our best to accommodate your schedule and specific needs. If you're looking for a dumpster bin rental near me Brighton ON that you can rely on, you've come to the right place. To get started, click the green "Book Now" button and follow the steps below.

1) Choose the bin that best suits your needs and click the "Add to cart" button.
2) Choose the service type, "Contractor" or "Homeowner" and click "Continue."
3) Choose your rental date using the calendar pop-up.
4) Verify your bin drop off and pick up dates and total price, then click "Continue Shopping" or "Checkout."
5) Enter your contact information, dumpster placement information, and a brief description of what you're dumping. Click the "Continue" button.
6) Enter payment details using any major credit card and you will then receive an email confirmation and a digital copy of your receipt.

You'll receive a call or text from our team to verify a delivery window with you leading up to your drop-off date. If you have any questions along the way, don't hesitate to call us at (613) 242-5893 and we'll be happy to make delivery arrangements over the phone!
Versatile Sizes and Competitive Prices for a Dump Bin Rental Brighton ON
We are pleased to offer our customers versatile sizes for a dump bin rental Brighton ON and the surrounding areas rely on most at great prices. Our local team provides unparalleled top-quality, industry-leading, and well-maintained equipment to construction sites, homes, apartment complexes, factories, warehouses, municipalities, and businesses.

We're committed to keeping our prices low, making it easy to budget for your waste disposal. We make renting a bin a simple process with our secure online booking. Browse our options; we have flexible rental times and pricing based upon either a 5-day rental or a 7-day rental time frame. Take a look at a few of our dump bin rental Brighton ON depends on below, then get started with the scheduling process through our secure online system.

10-Yard Bin: This rental measures 14' long by 8' wide by 2.5' high and is popular for garage and attic cleanouts and landscaping projects. Priced at $259 for up to seven days, this is a cost-effective tool at a great price.

16.5-Yard Bin: Measuring 14' long by 8' wide by 4' high, this multi-purpose size is great for renovations, junk removal, estate cleanouts, and larger cleanouts at homes or businesses. Priced at $299 for up to seven days of rental time, with a time extension at $20 per day, this is a conducive option for medium-scale residential or commercial projects.

21-Yard Bin: Measuring 14' long by 8' wide by 5' high, this bin's capacity for high volume and size make it a go-to on construction and demolition sites, restoration cleanups, purging hoarding situations, complete deck and fence tear-outs, and more. It's priced at $319 for a seven-day rental period and $289 for a five-day rental.

We offer flexibility with pricing and time frames on our rental waste bins Brighton ON appreciates for every cleanup or ongoing trash management need all year round.

Delivering Waste Disposal Bins Brighton ON Counts On to Surrounding Areas
Evergreen Bins delivers waste disposal bins Brighton ON can count on to a broad area of Northumberland County and the surrounding communities of Quinte West, Belleville, Deseronto, Picton, Wellington, and Bloomfield. For the #1 dumpster rental Belleville Ontario has to offer, work with the pros at Evergreen Bins! Schedule a reliable dumpster rental in Brighton, ON today. We are happy to offer delivery to the following zip codes looking for a dump bin rental near me Brighton ON depends on: K0K 0C1 and K0K 1H0.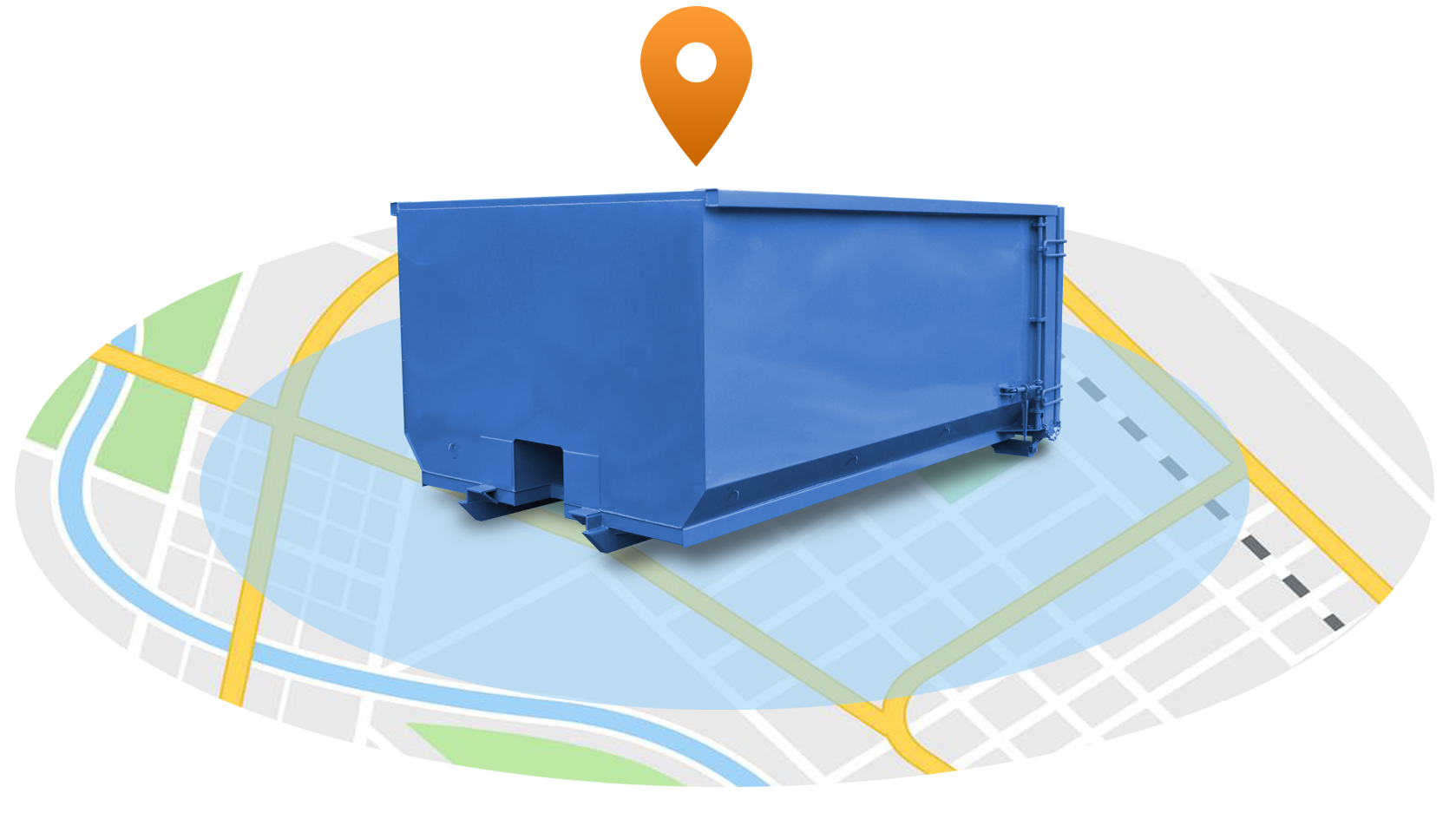 We are proud to partner with local community organizations, municipalities, businesses, and the Hastings and Prince Edward School District for their ongoing waste management and trash containment needs. Our goal is to build long-lasting relationships with our customers by offering top-notch rentals at affordable rates for all of their short- or long-term disposal goals, big or small. We provide dependable and convenient waste disposal bins Brighton ON chooses the most at great prices in surrounding areas.
Service Area
FAQs About the Garbage Container Rental Brighton ON Chooses First
Our team is here to answer any questions that you have about our garbage container rental Brighton ON households and businesses choose first. Take a look at our frequently asked questions below and give us a call if you need additional information or help scheduling your rental at (613) 242-5893.
Q.
Do I need to be present at the location for the bin delivery?
A.
You don't need to be present when we drop off the bin as long as we have specific details on where it needs to be placed and all potential obstructions are cleared. Contact our team with any questions about the delivery or placement of your scheduled disposal bins near me Brighton ON uses year-round for all of their household and business trash.
Q.
What type of debris and waste can I load into the container?
A.
We accept a wide range of materials, from general bagged garbage to furniture, appliances, e-waste, televisions, construction materials, junk, yard debris, and mattresses. We promote sustainable practices and abide by local regulations. If you have any questions about disposing of specific items using our junk bin rentals Brighton ON trusts, don't hesitate to give us a call.
Q.
How do I prepare for container delivery?

A.
Make room for your garbage container rental Brighton ON uses year-round by removing any obstacles, objects, cars, or anything that will inhibit or prohibit delivery to your desired location. Mark your delivery area; double-check the area on delivery day. Know what you can and cannot put in your container. Don't hesitate to give our customer support team a call with any questions regarding placement of the disposal bin rental Brighton ON depends on or acceptable materials and waste. Our aim is to help you achieve your debris disposal goals in a stress-free, streamlined manner.